Blake Peterson's path to Bullseye Projects was circuitous, to say the least: from Ohio, through Iowa, Washington, DC, to Scotland and California. Along the way he earned a BA in psychology; studied printmaking and business; received an MFA from the Glasgow School of Art; and worked at a blue-chip art gallery in San Francisco. Blake's itinerant history makes him ideal as the first face to greet the many visitors who walk through the double glass doors at our Pearl District projects space.
Lani McGregor: Like most of the rest of our staff, your background is not in glass, but in other forms of the visual arts, such as illustration, print, and digital media. Are there particular points of crossover from those fields that interest you in glass?
Blake Peterson: While my arts education and practice mostly revolve around printmaking and digital imagery, I think glass is a really interesting material because it can take a variety of forms and be treated as a surface or an object. There are certain crossovers between printmaking and glass, such as the matrix and edition structure. Monoprinting especially is a great point of crossover because you are working with layers, and balancing them against the added information. Glass is a refreshing material, and can add lightness to a medium such as printmaking, which is heavily influenced by the history of the medium. In the modern art world, an artist needs to have a more interdisciplinary approach to their practice, and glass is great because it translates into many other mediums. I see it as most successful when an artist has a definitive, conceptual reason behind their work in glass.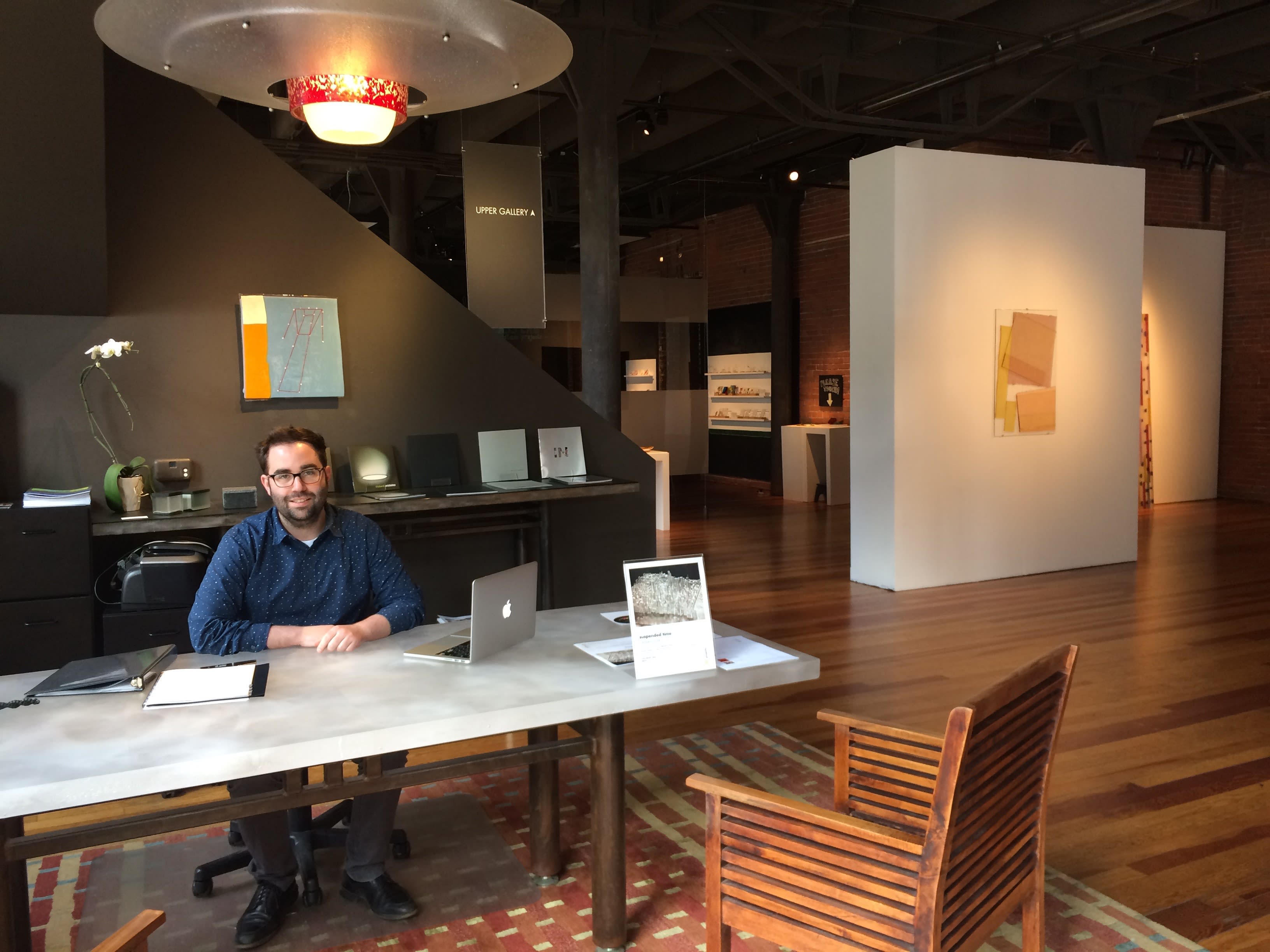 LM: As the primary "portal" to the many-tentacled creature that is Bullseye Glass Company, Bullseye Projects is privileged to enjoy hundreds of visitors from around the world, many of whom have never encountered glass in the forms that we show it. What sorts of questions do you hear most often? What's been your favorite encounter so far?
BP: Honestly, my favorite encounters have been with visitors who are simply incredulous about the fact that a specific piece was made in glass. It is great to watch a bewildered visitor's face as they process the information and have to realign their preconceptions about what exactly glass "is" and can be. I find this often leads to questions about the process, which is a great way to engage in a discussion about an art form.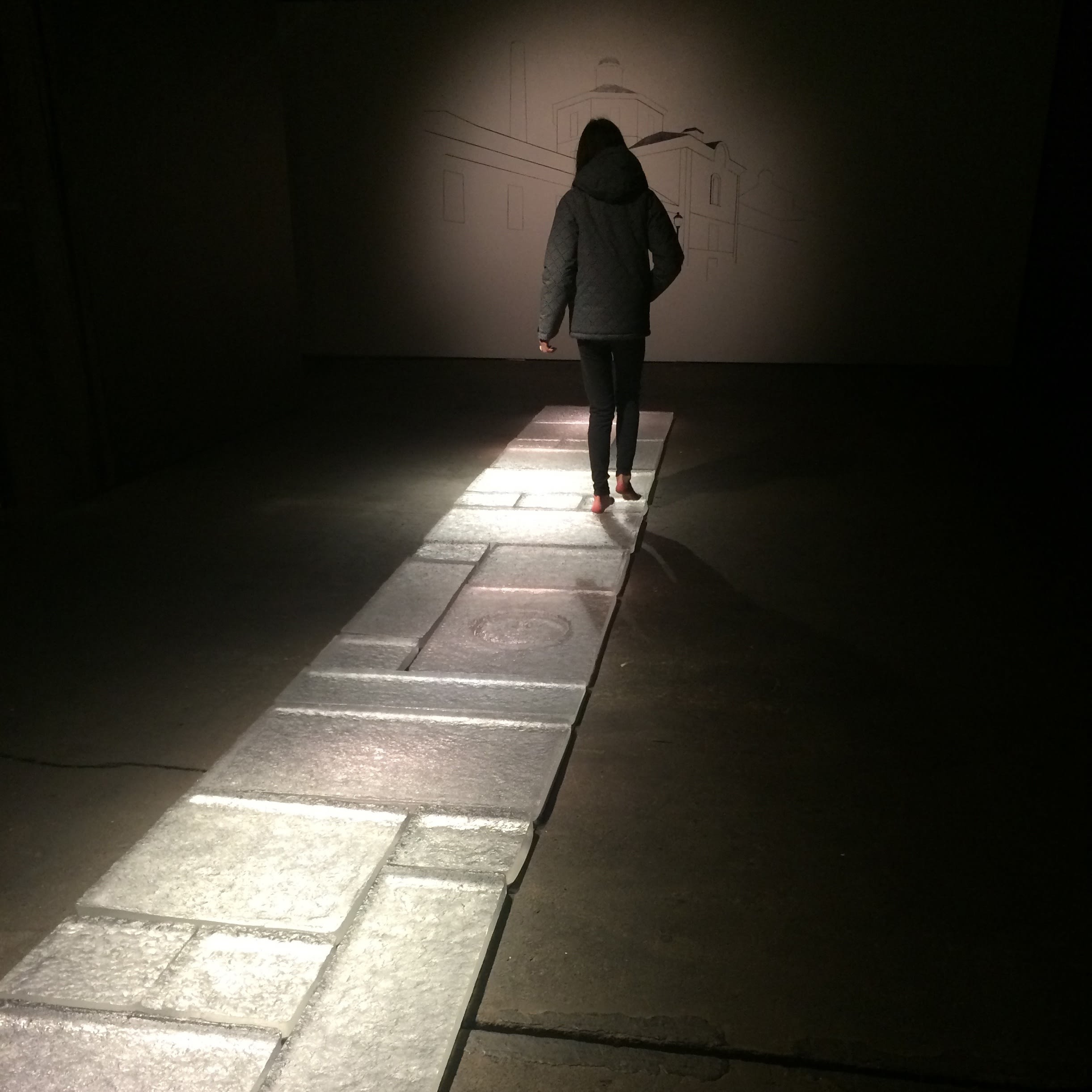 LM: In the 21 months that you've been with us at Projects, what has been your favorite exhibition and why?
BP: That's actually a very hard question for me… I don't think that I could pick out just one show! It would really have to be between Rudi Gritsch's solo exhibition Following Water and Emerge/Evolve. Rudi's exhibition felt like an installation, in that there was great attention towards how the pieces related to the environment. Rudi clearly had a definite conceptual link as to why his sculptures were constructed in glass. Many of the works also incorporated light in a novel manner; there was a balance of works that were intended to absorb the light, while others used their reflections as a part of the composition…almost like an inverse Calder mobile, using light instead of shadow. In regards to Emerge/Evolve, the exhibition represented the multitude of forms one can make using glass, and included artists who I felt were really pushing the limits of the media.