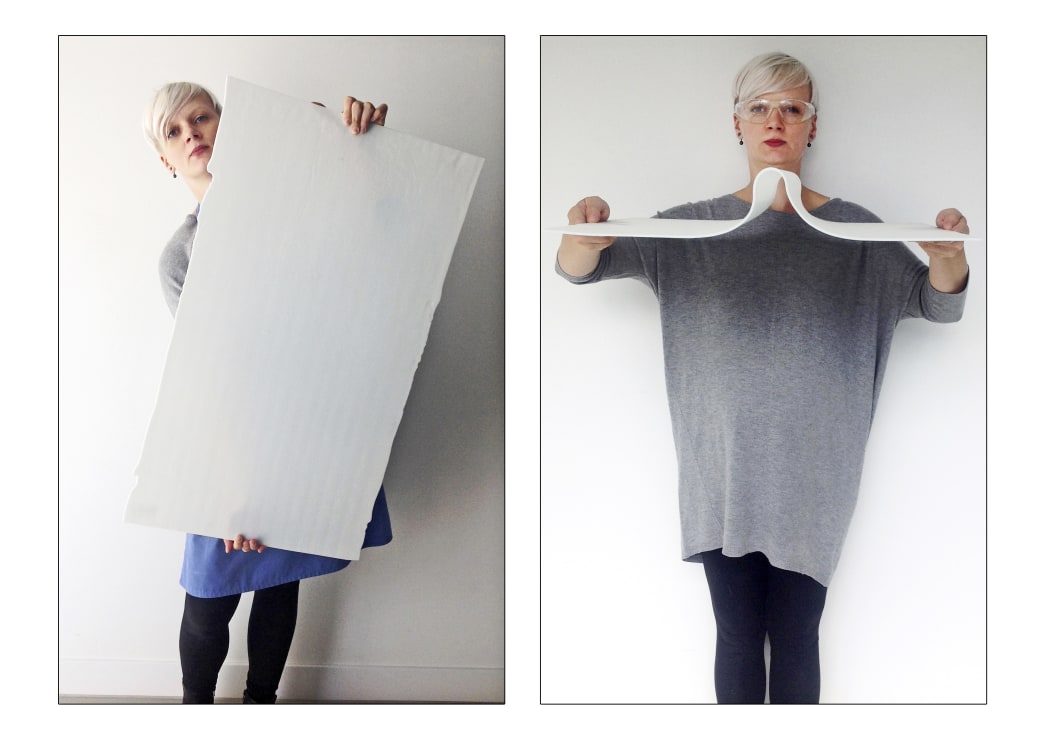 Marzena Krzemińska-Baluch is an internationally recognized artist based in Wrocław, Poland. She has received numerous grants and awards including Emerging Artist in Residence from Pilchuck Glass School. In 2016, she was the Silver Award winner in Bullseye Glass Company's biennial Emerge competition. Her newest body of work offers unconventional, wall-based glass sculptures comprised of rigid metal frames contrasting with delicately folded glass panels. Combining her work with that of Matthew Day Perez, the exhibition Break, Mend, Fold challenges and celebrates our material assumptions of glass and its properties. In conjunction with the exhibition, I asked Marzena a little about her past and her current studio practice.
Michael Endo: To begin, will you tell us a little about yourself?
Marzena Krzemińska-Baluch: I was born and still live in Wrocław in the southwestern part of Poland. Wrocław is located at a crossover with three countries - Czech Republic, Germany, and Slovakia - whose history has been very closely knit together.
This is the city where I attended schools such as the School of Fine Arts (metalworking), and The Eugeniusz Geppert Academy of Art and Design (glass). Ever since my childhood I was influenced by the artistic community, having lived right next to the Academy of Art and Design in the very center of the city, surrounded by the oldest architectural treasures and art galleries. In high school, I relished waking at dawn to take pictures of the misty nooks and crannies of Wrocław's oldest churches and streets.
Traveling, meeting new people from various corners of the world, getting to know other cultures and the tastes and fragrances involved, and thorough, insightful observation of the places visited have always been very important and inspirational for me. At first this took the form of hitchhiking to the "least tame" distant European areas, and, in later years, of train travels around Europe. Currently, I am a PhD candidate and work as assistant professor at The Eugeniusz Geppert Academy of Art and Design in Wrocław, at the diploma-awarding Studio of Glass Design. Concurrently with my work at the Academy, I carry out my artistic realizations.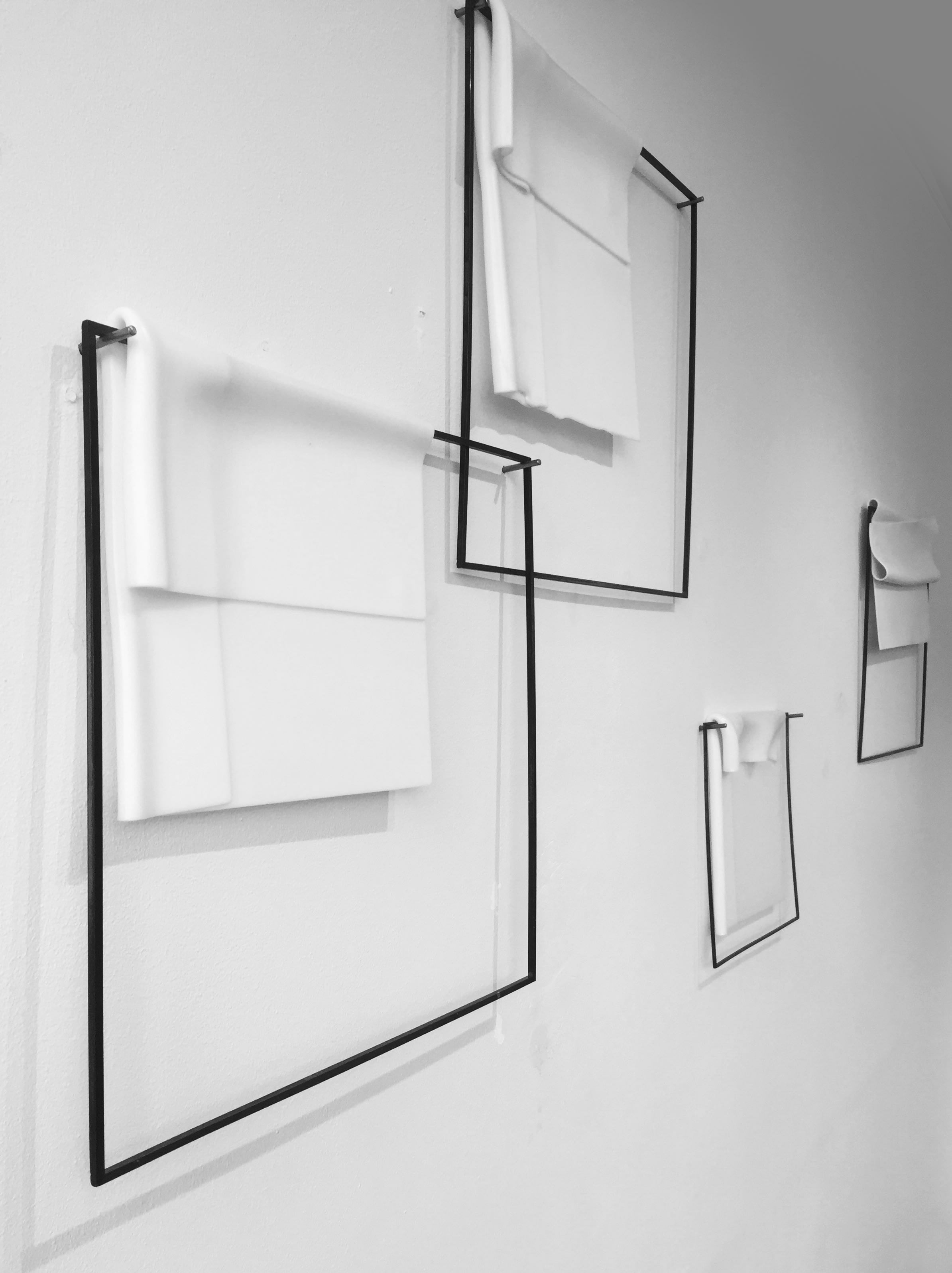 ME: When did you start on the path of becoming an artist? Was it something you were always drawn to, or was there a specific experience?
MKB: I think my childhood environment had a huge influence on who I am today. Ever since those early years, I have encountered many visual artists, musicians and writers on my path.
As I remember, at the beginning, that is as early as elementary school, my attention was focused on architectural conservation (perhaps because of the proximity of Wrocław's oldest architectural treasures), and many of those closest to me advised me against this idea in favor of a more artistic path and of choosing a high school with an artistic profile. There I faced yet another choice – that of choosing to learn metalworking or art exhibition display methods. It wasn't a complicated one for me in light of my passion for architectural conservation, which I associated with artistic craftsmanship. I studied metalworking and jewelry for the next five years. In the course of my education at the School of Fine Arts, a glass artist was my closest friend and it was she who encouraged me to enter The Eugeniusz Geppert Academy of Art and Design to study glass. I very vividly remember how she told me, "If I were to try to get into the Academy again, I would yet again choose glass." I didn't hesitate long, as I thought glass would have much in common with jewelry-making due to the process involved and the technologies in forming that medium.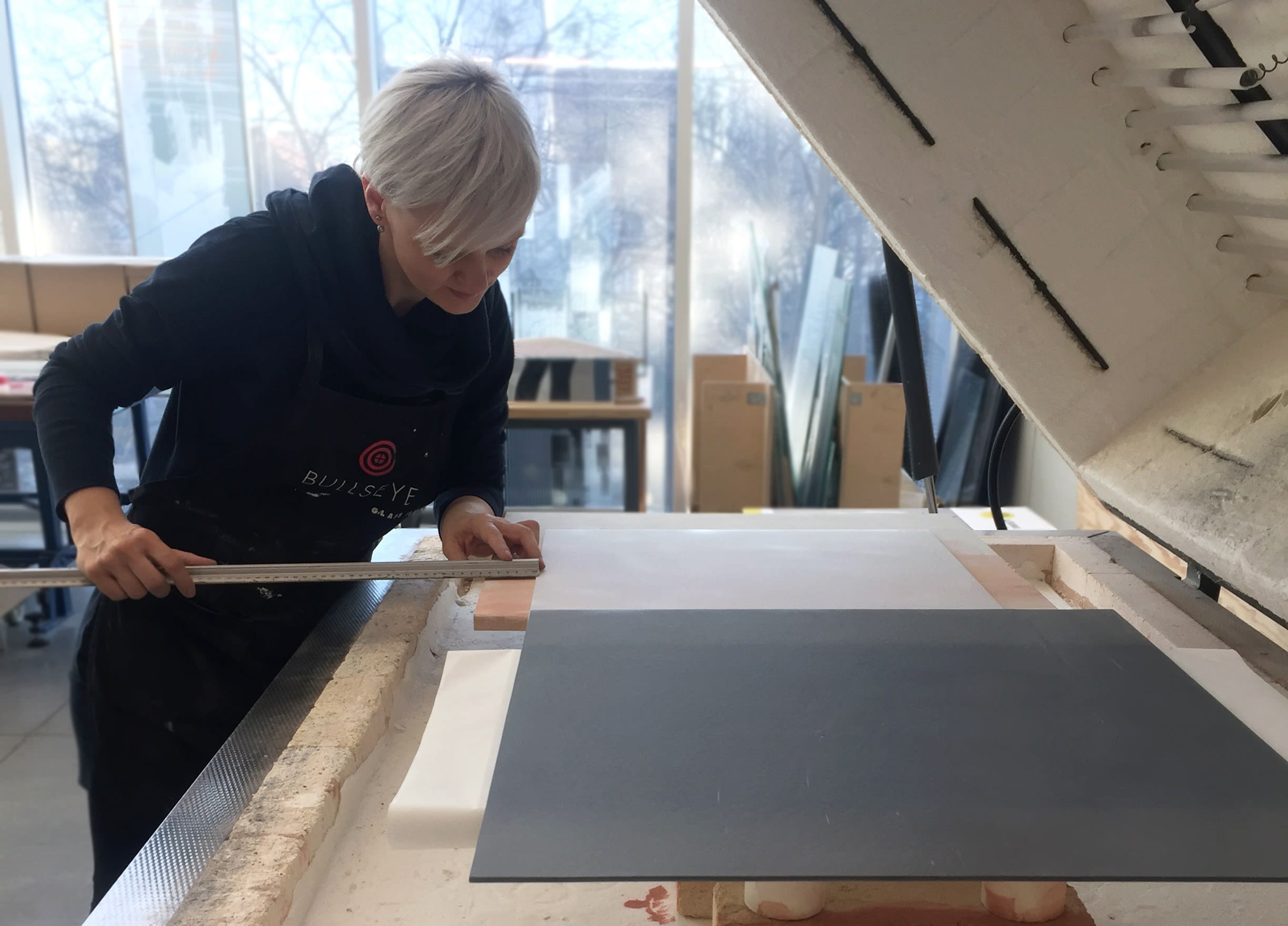 ME: Why glass?
MKB: Glass was of interest to me mainly due to its physical properties (brittleness, transparency, optical properties), chemical properties (heating and the plasticity of hot-sculpted glass), and the process of creating a work. I remember that when I entered the Academy of Art and Design it only had a cold shop with colorless and yellow optical glass. Both students and professors implemented their ideas using only coldworking techniques, which was very close to my earlier practice of jewelry techniques. Hot-sculpted or blown glass was utility glass. Students designed their works in class and made them during their apprenticeships in glassworks' industrial hot shops. This direct insight into the industry was a new and very interesting challenge for me. During my studies (2001-2006), the Academy didn't have a hot shop which would have allowed the hot-sculpting of glass or forming it in the warm glass technique. The cold-shop, intended for coldworking techniques, was our only option. Glass raw material was also difficult to access; optical glass donated to the Academy by Jelenia Góra's optical works was the only available material. We tried different "cold" methods to introduce color into the glass mass. In my case, it was the introduction of graphics, drawn in old techniques.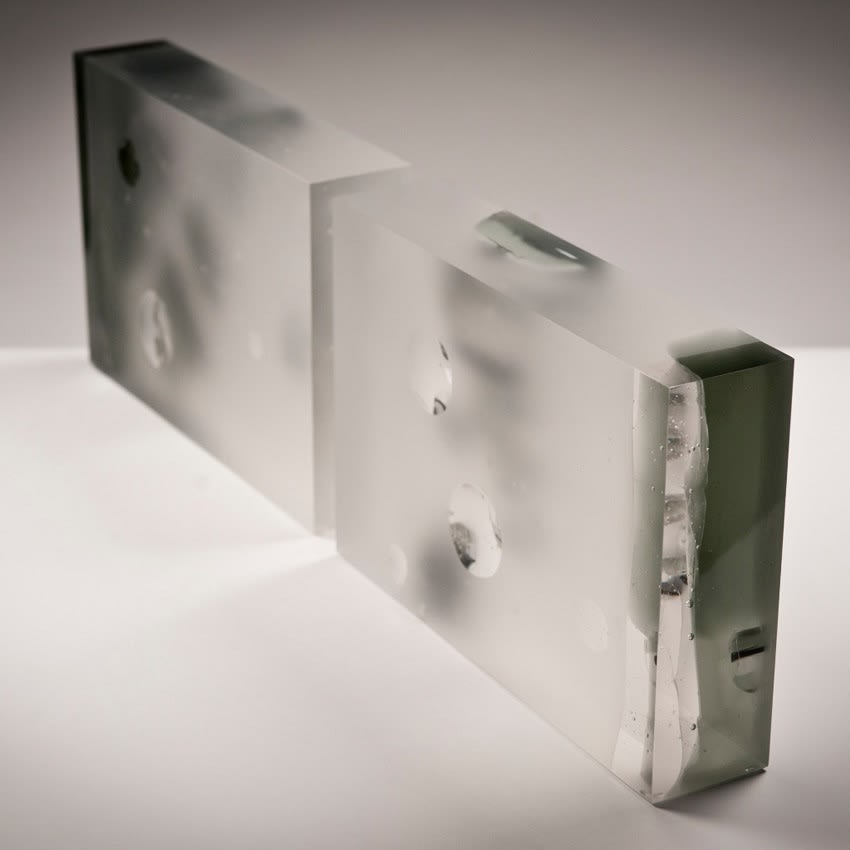 ME: In 2012, your cast and polished piece "lenses" was selected as a finalist for Bullseye's Emerge competition. Was this your first time applying to Emerge? Did the competition have any effect on your career or studio practice?

MKB: Yes, it was my first time. I learned about the Emerge competition during my artistic residency as "Emerging Artist in Residence" at Pilchuck Glass School in 2011. The residence at Pilchuck was my first artistic residency, my first direct contact with the artistic community in the United States, and my first contact with compatible Bullseye glass. Participation in the competition impacted my professional career, primarily due to meeting other artists and seeing their work, which is very important for me. I learned of new possibilities within this medium, and had the opportunity to work without restrictions.
ME: "lenses" is quite different from the body of work in the current exhibition. Can you discuss the path that led from there to here?

MKB: "lenses" was a project wherein I moved within the scope of issues connected with mostly the physical properties of glass such as transparency and optics, rather than within a specific idea or concept. I combined many of those pieces with drawn graphics, which alluded to organic representations. I mostly used clear glass, closing within it the black outline of the graphics, created on my own using old techniques, such as etching and aquatint. The world of insects was the main theme. There were also works in which the convex glass lens was the image mediator, which evoked emotions between the layers of glass and the image. These were usually minimalistic in their shapes and geometric in form; inside these I enclosed graphics, thus creating a three-dimensional space. "lenses" was a continuation of the way of thinking about glass I had learned during my studies at The Eugeniusz Geppert Academy of Art and Design in Wrocław.
From the perspective of time, I see that most of the objects I initially made were more of a test of glassmaking techniques than a work on a specific "artistic idea." I wanted to explore the coldworking possibilities and examine the transparency and optics of glass to its limits. What I am currently doing with glass is a result of artistic mobility, my travels, the people I have met on my path, the exchange of experiences, and the museums and galleries I have visited.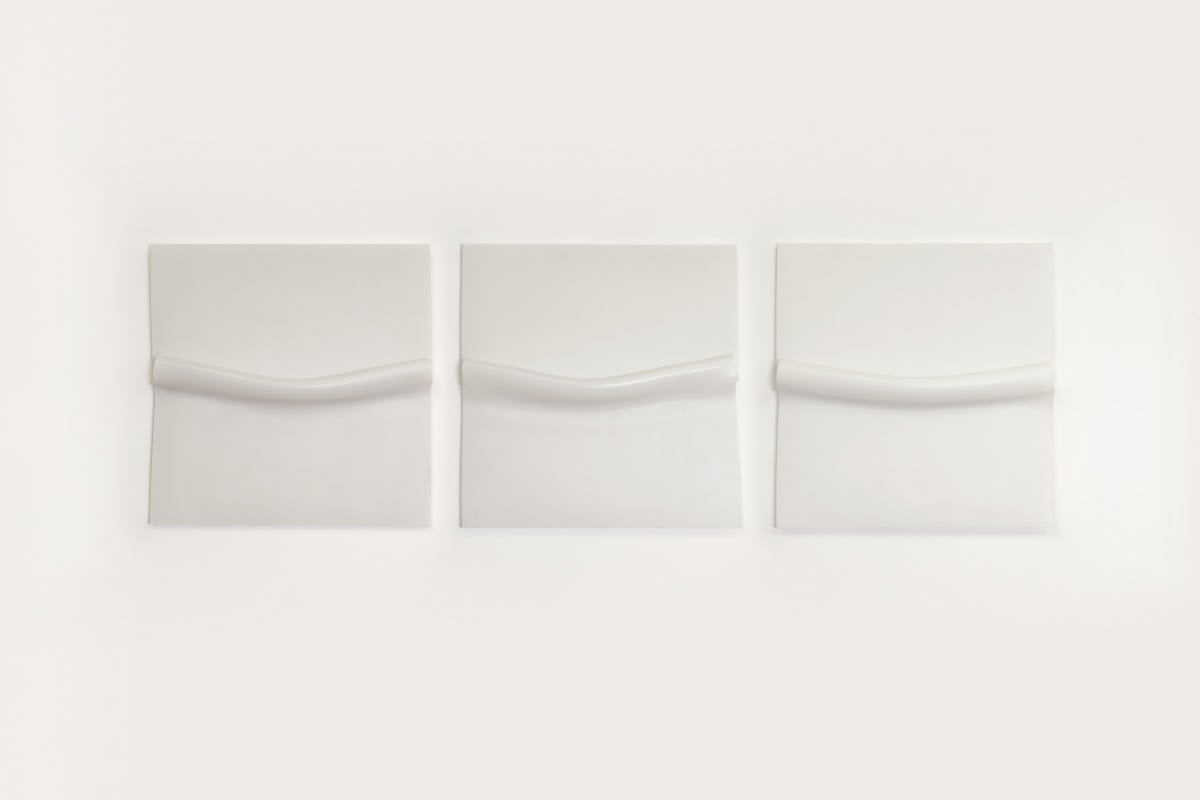 ME: Who are your artistic influences?
MKB: There are many. I can only name a few, especially those who are directly connected with the glass medium:

Kirstie Rea, with whom I had the pleasure of working during my residency at Pilchuck Glass School and at North Lands Creative in Lybster, Caithness, Scotland. During the residency, we talked a lot and made short projects (which was a new experience for me). It was Kirstie who drew the essence from me. During the residency, I made many attempts and realizations that touched the inner me. That is where the idea of ​​the making of the work entitled "Landscape" was born.

Oldřich Plíva from Czech Republic, with whom I've been friends for years. It was Oldřich who awed me with his very minimalistic approach to this medium, while, at the same time, bringing out what is most meaningful in this medium. He was the one who influenced my outlook on glass: "less is more," according to architect van der Rohe's theory.
Christopher Wilmarth's minimalism and modernism in his usage of flat sheets of glass in his sculptures, through which the artistic structure of glass gained a breath of fresh air.
Polish artist Jan Berdyszak through his introduction of real space to paintings, through constructing the work and its free space as an open image, and "Pomiedzy" ["In-between"], a series of his works.
Theories by architect Juhani Pallasmaa and his book The Eyes of the Skin: Architecture and the Senses.
Larry Bell and his experiments with the nature of surfaces and their spatial, environmental aspects.

And many, many others...
ME: Do you listen to music in the studio? If so, what bands/musicians?
MKB: Sometimes I do, sometimes I don't; it depends on the day. If I have too many external stimuli around me, I like to lock myself in the studio all alone and relish the silence.
When I do listen to music, it is very often an independent radio station, with music groups such as Sol Invictus, Current 93, Pink Floyd, The Knife, The xx...
ME: Upending the material expectations of glass (i.e. making it appear like fabric… or paper) has been the focus of a number of artists in recent years. Will you tell us a bit about what drives you to explore these forms in glass?

MKB: I am perfectly aware of how many artists deal with the issue of bending or forming glass as one would fabric or paper. My goal was not to create an object that would mimic fabric or paper. I am more interested in investigating the possibility of deformation in the gravitational technique of the glass plane, while, at the same time, enclosing the deformation in a geometrized form in order to achieve regularity and the narrowing of the visual field. I love to observe glass during the deformation process; to catch it, to stop it, at just the right moment of its deformation.
My work is always accompanied by some idea, a desire to depict my personal experience with emotions, images in my memory, etc. I start out with a model, usually made of paper or tracing paper, to be able to imagine the final form of the object. Why white? I often think about this question myself and believe it is due to the number of external impulses and the chaos of everyday life, which repeatedly encourages me to escape into isolation. White allows us to focus our attention, to have a moment to contemplate, to see the details, the meaning of the work.