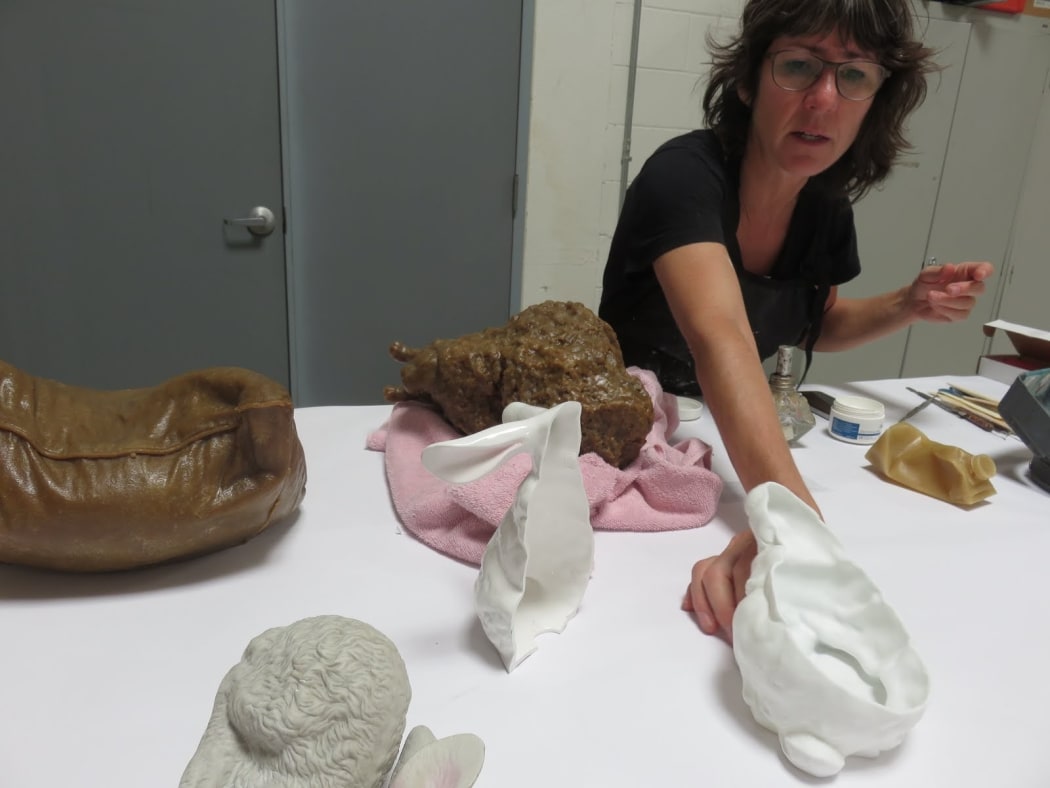 In February of 2018 I was in London representing Bullseye Projects at Collect, an international fair for modern craft and design, when artist Heidi Schwegler called, informing me that we were to become neighbors in the Mojave desert. It was only a few weeks prior that Heidi Schwegler had expressed disbelief when my wife and I confided that we were building a studio in Yucca Valley, California. Fast forward to today and we are all living in the desert, building a studio together, in the middle of a working relationship that began in 2015 when I assisted Schwegler in creating her first work in kiln-glass, introducing her to the material and process.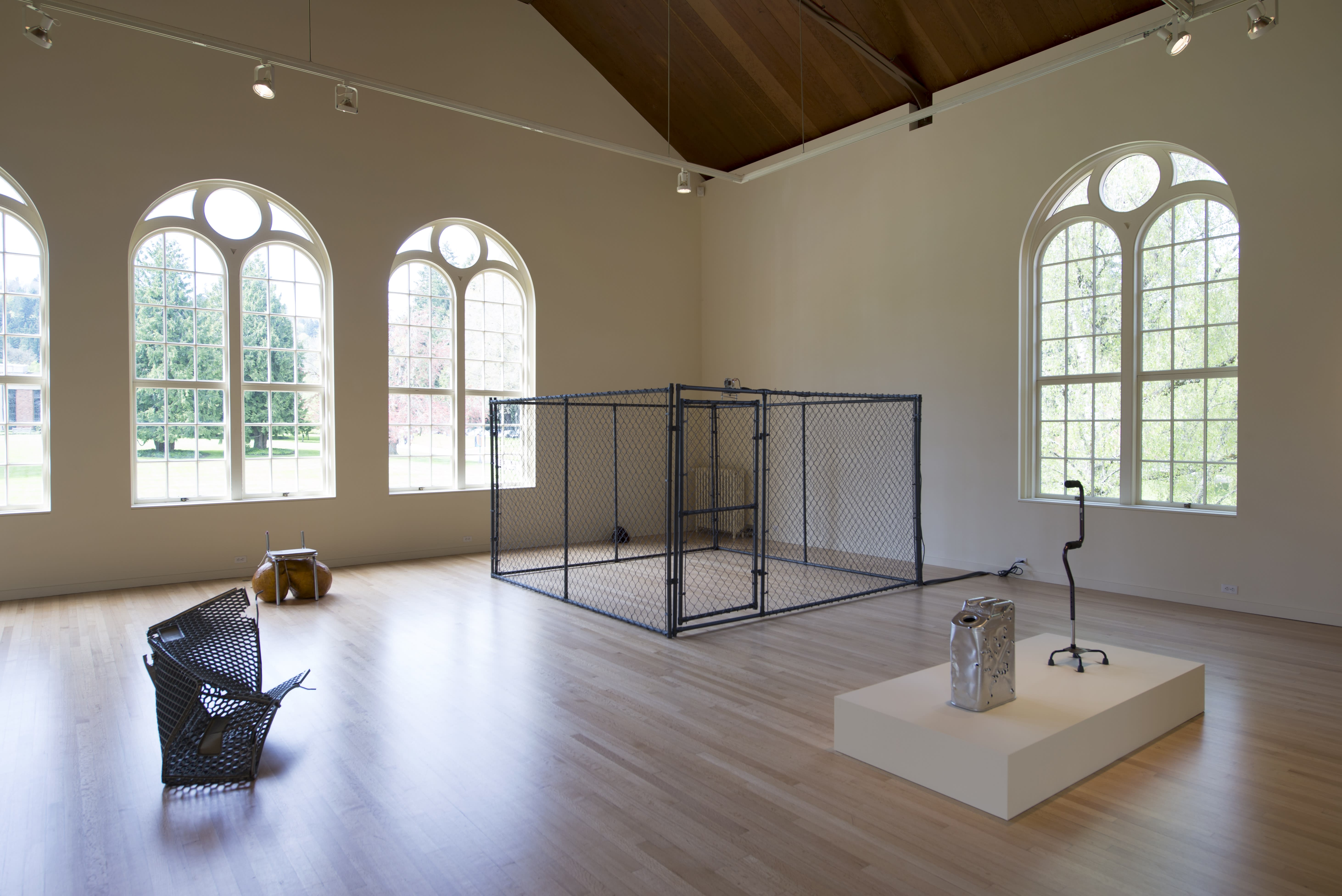 Before beginning her kiln-glass journey, Schwegler was already known for using a wide variety of media in her diverse oeuvre. Schwegler's 2015 retrospective exhibition, Botched Execution: 2004 - 2015, at Marylhurst University's Art Gym showcased this broad approach to material, bringing together video, installation, photography, metal, plastic, foam, flocking, found objects, and that original work in cast glass. No matter the material, Schwegler's work expresses a deep investment in the lives of objects and how their use, misuse, or neglect evoke memory, making common objects surrogates for the body that reflect our anxieties and frailty.

Since 2015, Schwegler has fully integrated glass into her practice, participating in a residency at Bullseye Glass Co., adding equipment to her own studio, and now building and founding the Yucca Valley Material Lab, a soon to be non-profit glass studio and residency in the Mojave desert.

Schwegler's kiln-glass work is currently included in In Residence, a group exhibition at Bullseye Projects presenting the works of four former resident artists. Ben Buswell, Jessica Jackson Hutchins, Sibylle Peretti, and Heidi Schwegler each spent a month in Bullseye's southeast Portland studio developing work in kiln-glass. I recently pulled her away from her projects in Yucca Valley to ask her a few questions about her kiln-glass journey and her move to the desert


Michael Endo: I want to begin with a strange question in that I partially know the answer, but would prefer to hear it from you. You are known for using a wide variety of media, but it wasn't until Separation Anxiety_05 (2015), a cast glass pillow, that you decided to use glass in your work. Why hadn't you considered glass until this point and what made you decide to use glass for this particular piece?

Heidi Schwegler: After the fact it seems so obvious that glass should have entered into my list of materials, especially since I've done so much work with resins, which, when done correctly, can look like glass. But it really didn't cross my mind until you visited my studio, saw the concrete version of the pillow and asked, "Why not clear glass?". I'd been working with resin and moldmaking since graduate school and was a huge fan of crystal clear (which, again, looks just like glass), but the issue with it over time was always the yellowing from a lack of UV stability. When you mentioned the possibility of glass, it was a sort of "hand to the forehead" moment and I really haven't looked back since. I admit, though, I couldn't have done it alone; the process can be daunting. Separation Anxiety_05 was definitely an eye opener in terms of how challenging it is to work with the material. And time consuming!
Endo: The current exhibition In Residence, at Bullseye Projects, presents the work from former Bullseye Glass Company resident artists. You have, in the past, described the Bullseye residency as the most difficult residency you have ever participated in. What was it about this residency in particular that was so challenging?

Schwegler: It was absolutely more intense and challenging, but it was also my first technical residency, which is very different from one that offers the artist time and solitude for conceptual growth, like Yaddo or MacDowell, which offer beautiful but limited facilities and no technical support. When I received the Bullseye residency I had only worked with glass for less than a year. I was very aware of how much I didn't know, and I knew that it wasn't a material that I could just intuitively learn on my own.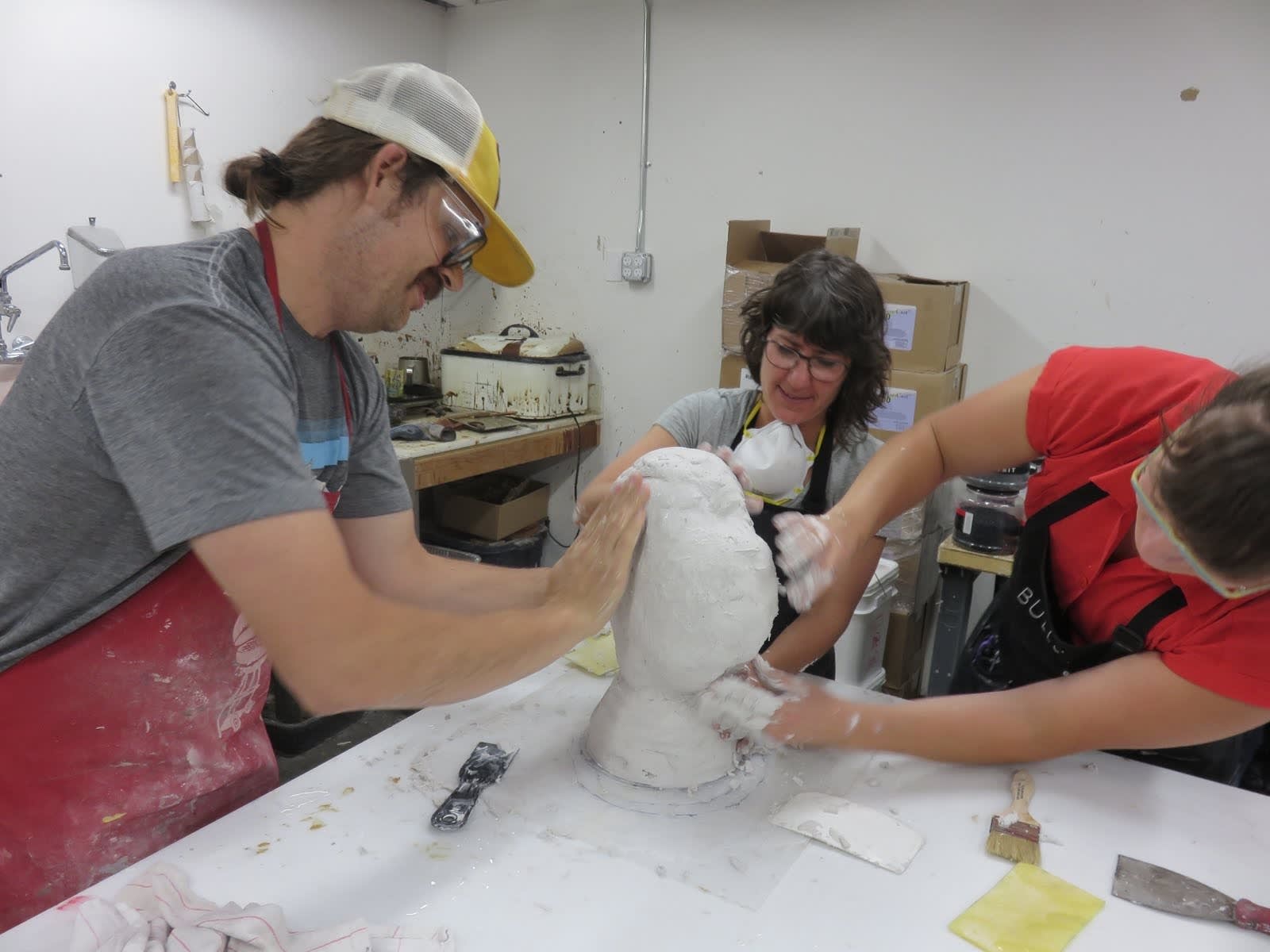 The Bullseye residency is much more than just a work space in their building. You are gifted with 24 hour access to the facility and the equipment, a bit of assistance from the technicians (they are very busy!) and a materials stipend. All of this makes you very sensitive to the fact that your time is finite, so you better come prepared (I walked in with many silicone molds and waxes ready to go) and you better go in with a plan (for me it was to learn and cast as much as I possibly could), and oh, it's best if you cancel all other engagements. I would come home every night and all I could do was pop a beer and eat Annie's chili right out of the can for dinner. I was lucky if it was heated. I would have to give myself a hand massage for the rest of the evening because the mold making (and de-molding) was pretty physically demanding. In the end, it was challenging because I was already addicted but ignorant, and knew those 30 days could teach me so much about the material and the casting process. So if I worked hard enough, I would walk away miles ahead technically. In the end, I was right, and the intensity was SO worth it. In fact, I'd kill to be able to do it again.

Endo: Despite the challenges you faced with this material you have made significant investments into this medium, adding equipment to your studio and enrolling in classes at both Pilchuck Glass School in Stanwood, Washington, and North Lands Creative in Lybster, Scotland. This seems to set glass apart from other materials that seem to come and go in your practice. What makes glass different, from say, bronze, for which you often seek fabrication assistance?

Schwegler: I suppose glass right now is young love for me, so I don't even question purchasing the tools and equipment I need for new work, though there are financial limitations. My future fantasy is a sandblaster and lap wheel. On that very sad last day of the residency, I handed my key back to Bullseye and drove straight over to Georgies to buy a used kiln. By going this route, I am able to continue to learn on my own, rather than contracting it out which can become abstract (and incredibly expensive). The more I learn, the more I can figure out how to utilize the material. When I first started working with metal it was the same story. I became almost 100% self sufficient with equipment and tools. In fact, I taught workshops out of my studio. This gave me the means to master it over time, only to be able to walk away and job it out if time was too tight. I just hired a former graduate of mine to fabricate a bendy straw in bronze which will ultimately be gold-plated. Look for it at Upfor Gallery in May. There was a time when I could have done all of this in my own studio. And maybe in 20 years I'll reach this point with glass!

Endo: Other than your first glass piece, Separation Anxiety_05, you have eschewed transparent glass and have predominantly used dense, opaque glass. Mimesis and trompe l'oeil are components of your work so it makes sense that a re-created object looks like the original object, but glass making can be a difficult and exhausting process. How important is it that the viewer know what the actual material is and how much work goes into making it look like a piece of chewing gum or a broken, mass-produced concrete lawn ornament?

Schwegler: Knowing the material, or I should say discovering the material, since it isn't always apparent, is very important as it adds content to the work. I reverse industrial production by painstakingly transforming durable, mass-produced stuff into fragile, unique works of glass, porcelain, and gold. By reassigning the value and purpose of something recognizable, I emphasize what it used to be by asking you to reconsider what it has now become. Even when elevated to materials with perceived intrinsic value and placed on white walls and pedestals, the forms retain the aura of their original surroundings and the aura of the people who tossed them. There is an alchemical power inherent in casting that allows me to transform these objects even further. If you cast a recognizable form into a material that is completely antithetical to its function, the viewer must renegotiate their relationship to it, thereby allowing him/her to see an object again for the first time.

A wad of chewed bubblegum cast in glass does just this. But it's not obvious, since I treat the glass in a way that allows it to transcend its own materiality. Most think of glass as translucent, not opaque, so my work is often read as plastic. I like that because plastic is usually seen as a lowbrow and durable material used in mass production, whereas glass is considered fragile and more valuable. For most of my work, you have to take your time and carefully notice, and at times this might mean you have to read the material list for full appreciation.
Endo: Glass is a fragile material and historically it was at one time as valuable as precious gems, but today it is quite common. We are surrounded by glass but transforming a plastic object into glass has a very different meaning than transforming a glass object into plastic. How do you determine the meaning and cultural value of the materials you choose to use?

Schwegler: I think I may have answered most of this in the previous question, but I can also say that I approach discarded objects as investigations into overlapping ideas of mortality, consumption, and coping mechanisms, often finding in them beauty and disquieting humor. By presenting transformations of consumer goods in unexpected materials, I seek to create new relationships between viewers and the mundane discards that I refer to as intermediaries of human desire. To collect the discarded is to collect the behavior of the person who tossed it or the culture that once revered it. These objects are idiosyncratic as the damage and wear and tear are visual cues that evidence history, use, and purpose. Bringing the mundane back into the foreground through its material re-presentation reveals paradoxically the extra-ordinariness of what is often considered, dismissed, or celebrated as every-day. In an age of homogeneous mass production, the ultimate gift is to create a new thought for an ordinary object.

Endo: In 2018, you left your position as chair of the Applied Craft and Design program, a joint MFA from the Oregon College of Art and Craft and the Pacific Northwest College of Art, to move and set up a kiln-glass studio in Yucca Valley, California. What prompted your departure from academia and your decision to open an alternative learning environment that is specifically focused on glass?

Schwegler: My professional aspirations since 1998 resided in blending a career that included a studio practice as a professional artist and teaching as a professional educator. I was fortunate to be able to teach at OCAC which is at the pinnacle of craft education and the AC+D graduate program which encourages students to make original work with an applied purpose. After nearly 20 years it was time for me to step away, but what I'm doing now is not so far off from what I did during that time. I am still very much dedicated to my studio practice, however instead of academia, I am now focused on developing a non-profit residency/workshop in Southern California that will ultimately pass along the craft of glass casting. And why glass? Well, my success rate during the Bullseye residency was only about 30%, but surprisingly I found the failures to be far superior to the work that came out as I had intended. I suppose it's because it allowed me to discover what the glass could actually do, which was far more compelling and poetic than anything I could have predetermined. Pushing a material so far that it fails is something I've always stressed in my teaching. Now I am doing that for myself and for those who visit the Yucca Valley Material Lab. Similar to Bullseye, some of the artists, craftspeople, and designers who will be coming to the Lab will be exploring glass for the first time. Even if it's a material they don't continue to explore when they return home, these experiences can be completely transformative by allowing them to approach the materials they already know with fresh insight.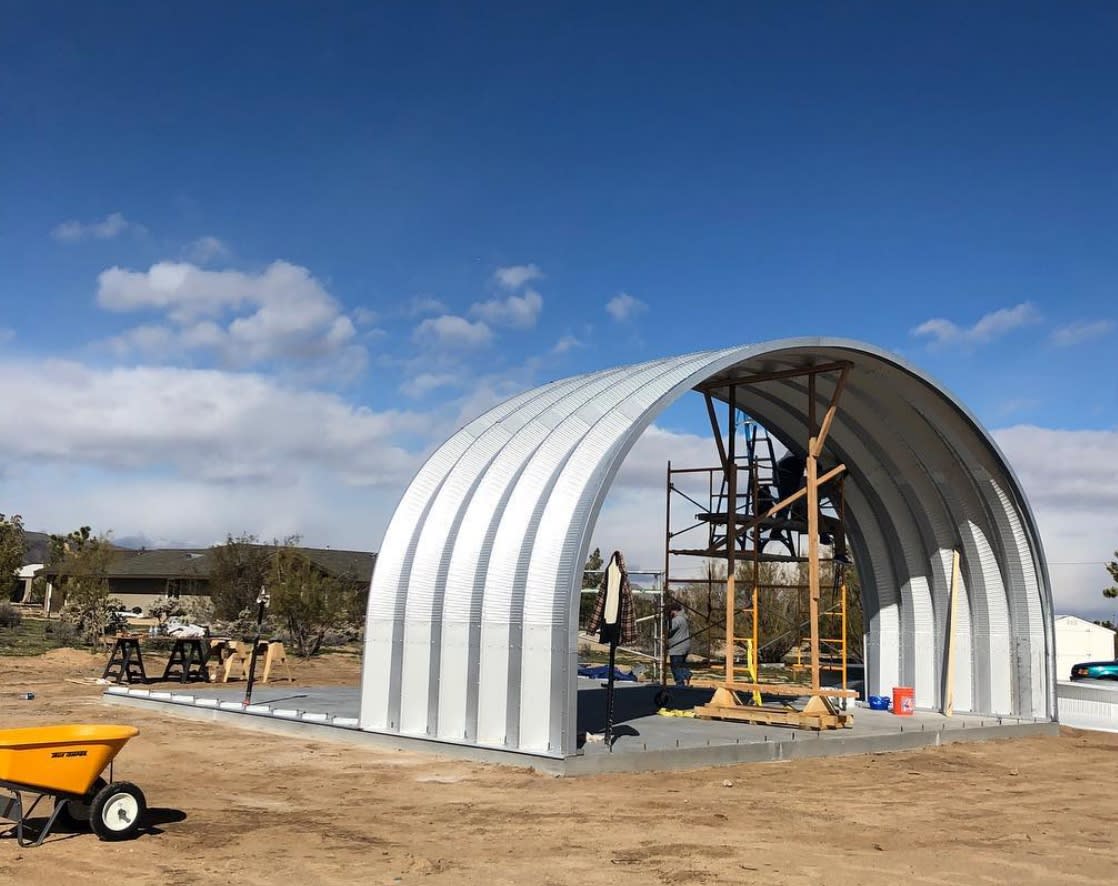 Endo: The Yucca Valley Material Lab will open later this year; what is the YVML, and what do you envision accomplishing in the first year?

Schwegler: Yucca Valley Material Lab is a space for thinking through making. Surrounded by the beauty of the Mojave Desert, the program provides artists, designers and craftspeople the gift of time to discover, make, and reflect, while they explore glass as a material. Residencies last up to three weeks and include lodging, full access to the lab, technical assistance, and opportunities for intellectual exchange through panel discussions, lectures, and workshops. The lab will be shared with multi-day workshops led by internationally established artists and designers.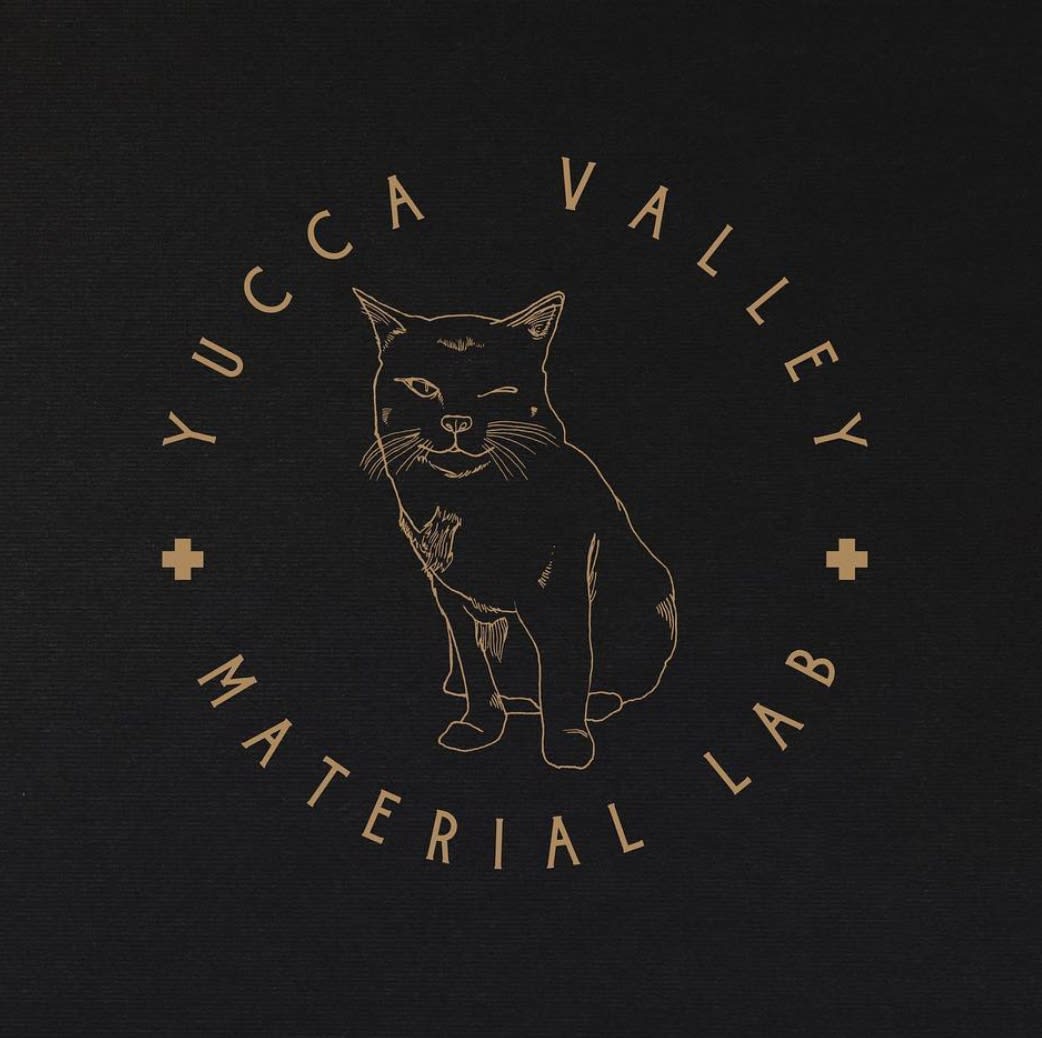 The facility itself will be a stripped down 30 x 30' industrial Quonset hut-style building, the construction of which we just started. It is situated near Joshua Tree National Park, downtown Joshua Tree, Yucca Valley, and Pioneertown and is only a few hours from Los Angeles. Lodging for the artists in residence will be The Wilderness, a vintage fifth wheel trailer just steps away from the Quonset, which has been customized through a Design Build Intensive with five graduate students in the MFA in Applied Craft + Design Program (Portland, OR). Designed for essential and temporary living, the interior has been stripped down and skinned with plywood and provides the artist independence: facilities for cooking and bathing, wifi, a writing desk, and a comfortable place to sleep. It's almost like you are living inside an artwork crate; you become the work. Surrounded by Joshua trees and high desert flora and fauna, the trailer offers perfect views of the sunrise and sunset. Currently we are also renovating a decommissioned water tower, which will ultimately become a watch tower with a bird's eye view of the mesa and a mini gallery below for each artist in residence to showcase their work at the end of their time at YVML.

In the next year, I envision both the residency and workshop programs to be in full gear!
You can find Heidi Schwegler's work on view in Bullseye Projects' currrent exhibition, In Residence, through March 9th. Look out for her upcoming exhibition in the spring of 2019 at Upfor Gallery in Portland, Oregon. Schwegler is also participating in and organizing, I Went to the Desert, a group exhibition showcasing the work of artists who have chosen the desert as their home, at Outpost Projects in Yucca Valley, California.