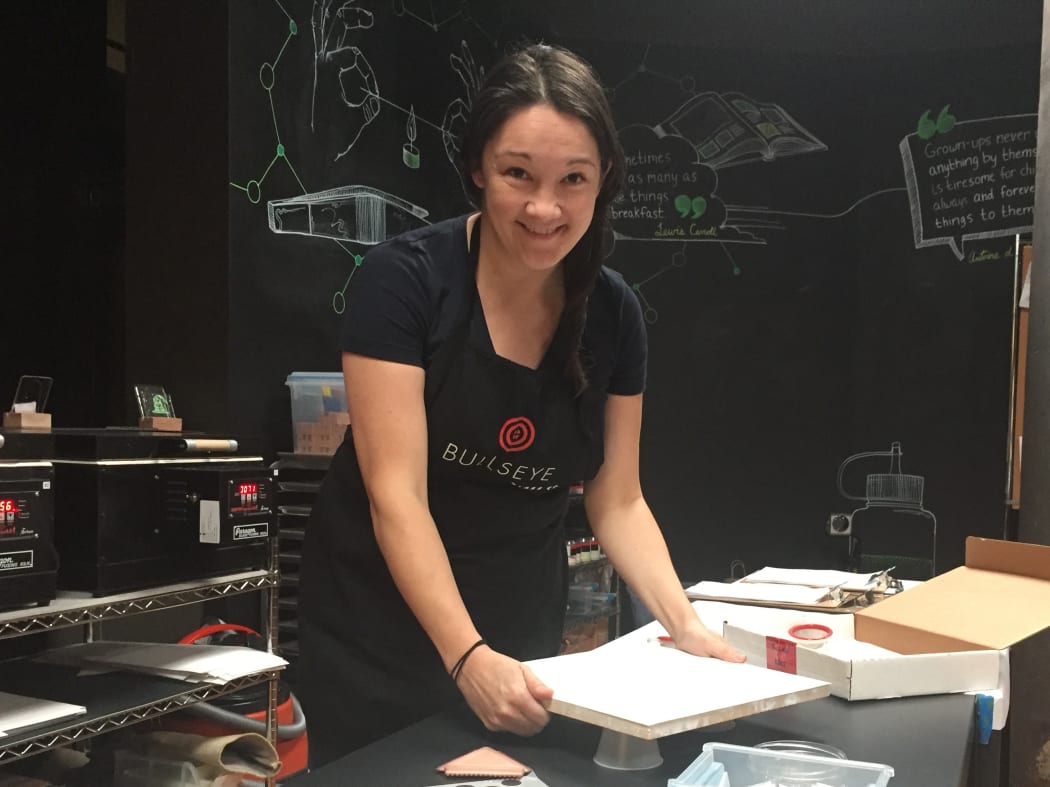 Laura O'Quin leads the kids and family programs at Bullseye Projects. With fifteen years of experience in museum education and her recent MFA in Applied Craft + Design, she's hyper-skilled at tug-boating potentially lethal masses of multigenerational energy through rooms full of delicate objects and into a studio where that enthusiasm takes form in glass.
After a Free First Saturday program brought in over a hundred kids, parents, and grandparents, Lani McGregor, Director of Bullseye Projects, asked her to answer a few questions about the Glass Lab at Bullseye Projects.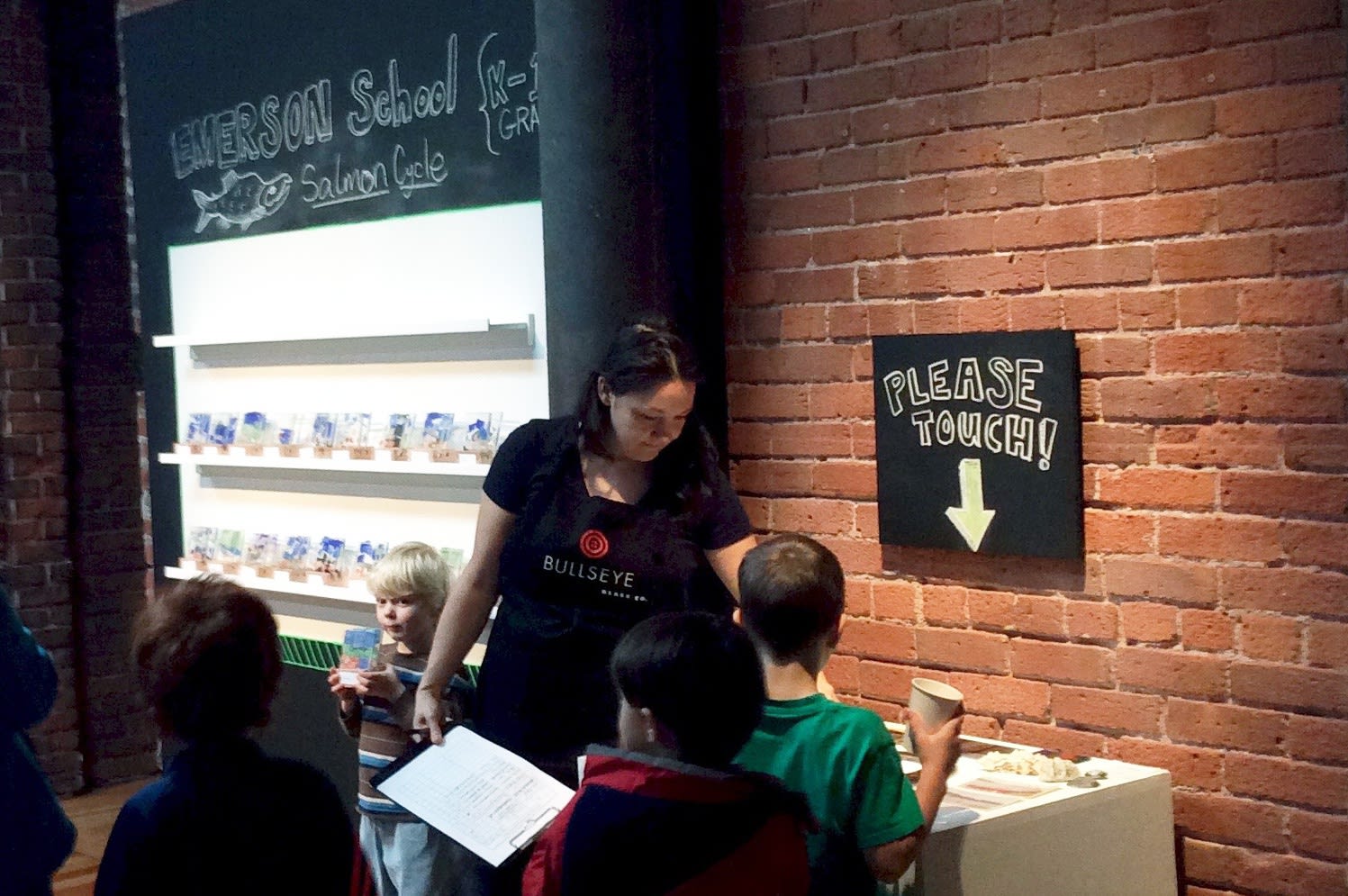 Lani McGregor: Inviting small children into an art gallery to talk about and make stuff out of glass seems like the proverbial "recipe for disaster". You have a long history of developing and implementing materials-based programs. What have you found special about glass?
Laura O'Quin: Yes, as you've said Lani, "We put fire and sharp objects into the hands of young children." There's something magical about working with what is so often a hands-off material and making it hands-on. Glass levels the playing field; unlike drawing or painting, people coming to glass don't run into their expectation as to what it "should" look like. This fosters an open exploration and intense focus, two things at the heart of creative and critical thinking—something we are passionate about here at Bullseye Projects.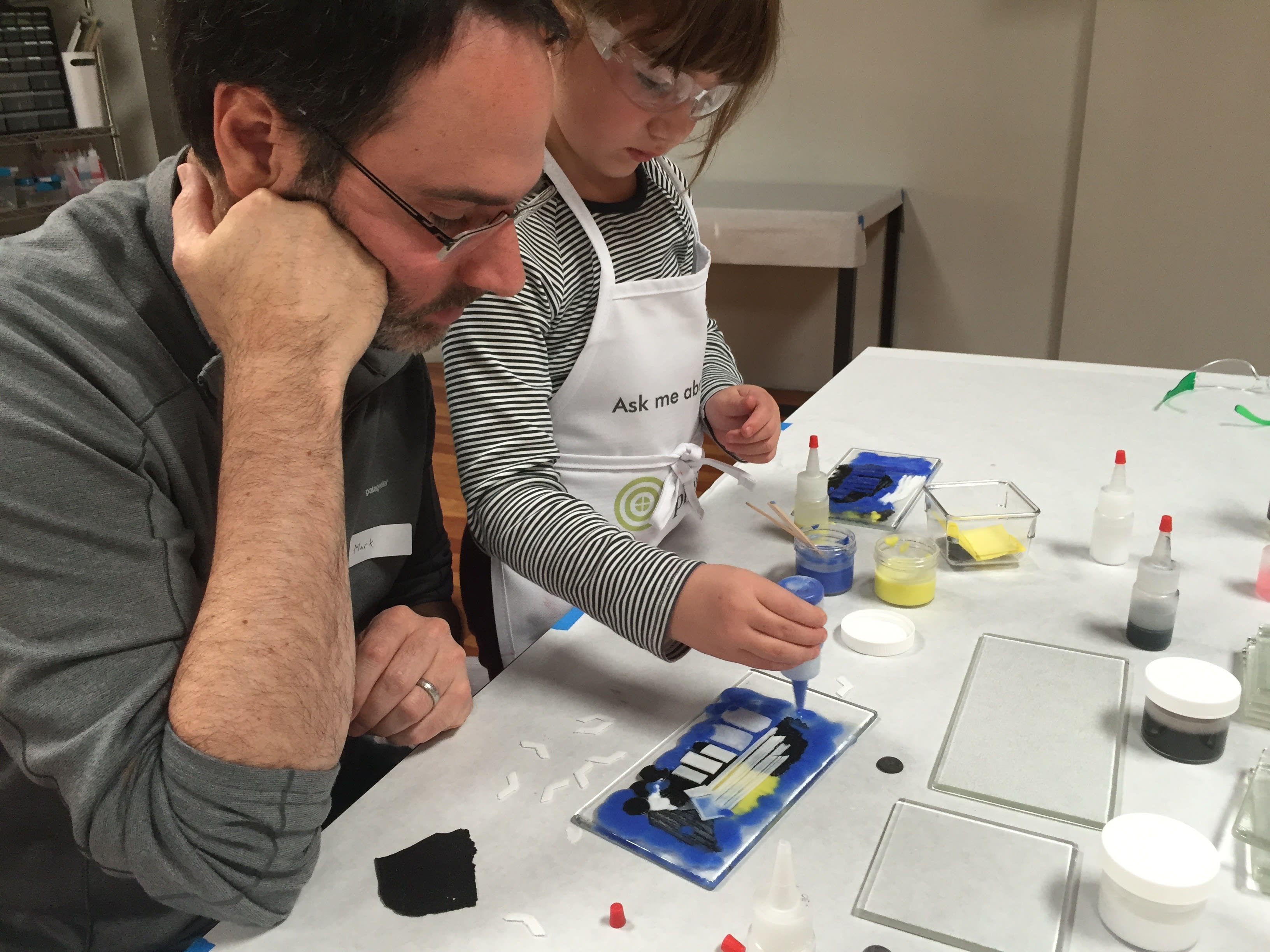 LM: When we started a child-focused program, I was hesitant to involve parents, grandparents, or guardians. You argued for making ours a family program. I'm glad you won the argument. What is it about family programming that makes it so effective?
LO: The Glass Lab was created on the premise of experimentation and innovation, and who better to lead the charge than kids? Plus, parents and guardians so rarely have opportunities to work alongside their younger counterparts. I wanted to develop family programs centered on a philosophy of slowing down, taking time, hands-on making, and collaboration – all things that are part of my personal artistic practice. And it's been great, over the last two years of programs in the Glass Lab, to see parents turn to their kids for guidance, and kids make connections to complex concepts through their art making and gallery discussions.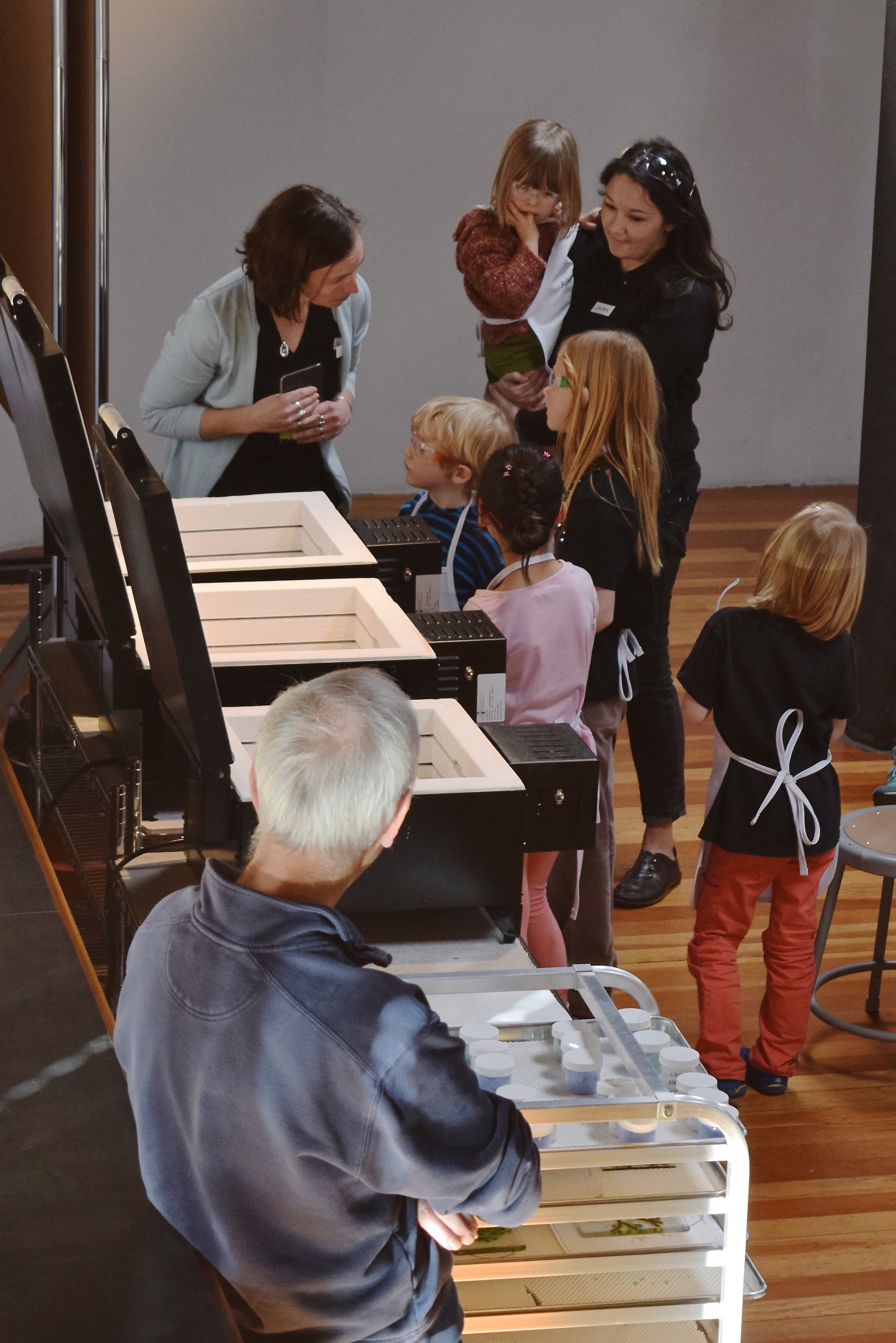 LM: You use a variation on the Visual Thinking Strategies (VTS) method in your interaction with kids and adults. How have you adopted those principles to the program you've crafted at Bullseye Projects?
LO: My teaching philosophy is rooted in a student-inquiry approach. This means the goal is to foster dialog, choice-making, and opportunities for articulating thoughts and emotions. We do this both when looking at art in the galleries and making art in the Glass Lab. We use student-guided gallery experiences as a way to jumpstart a process of looking and thinking deeply. Through group discussion, participants cultivate a willingness and ability to present their own ideas, while respecting and learning from the perspectives of their peers; adults and kids alike. When we dive into hands-on making in the Glass Lab, we never hand out supplies. We try instead to give open-ended demonstrations that honor the complex, interconnected nature of knowledge construction.
LM: Has there been an especially rewarding moment in your interaction with kids in the Glass Lab program? If so, can you describe it?
LO: A good art experience makes you think differently about something and inevitably in every program someone uses the materials, says something, and/or makes something that pushes my thinking. In the galleries, I've listened to three-year-olds talking about what they don't see, changing how I look at the artwork, even appreciate it more.
LM: What's coming up in the Glass Lab?
LO: We'll continue to put sharp objects and fire into the hands of young children and scale these experiences to multi-session workshops and community partnerships. During the school year we'll have consistent free family and kids programs every second Saturday of the month. We're also excited about working more closely with schools and organizations to offer field trips, custom curriculum connections, and youth-generated installations.
Join us!