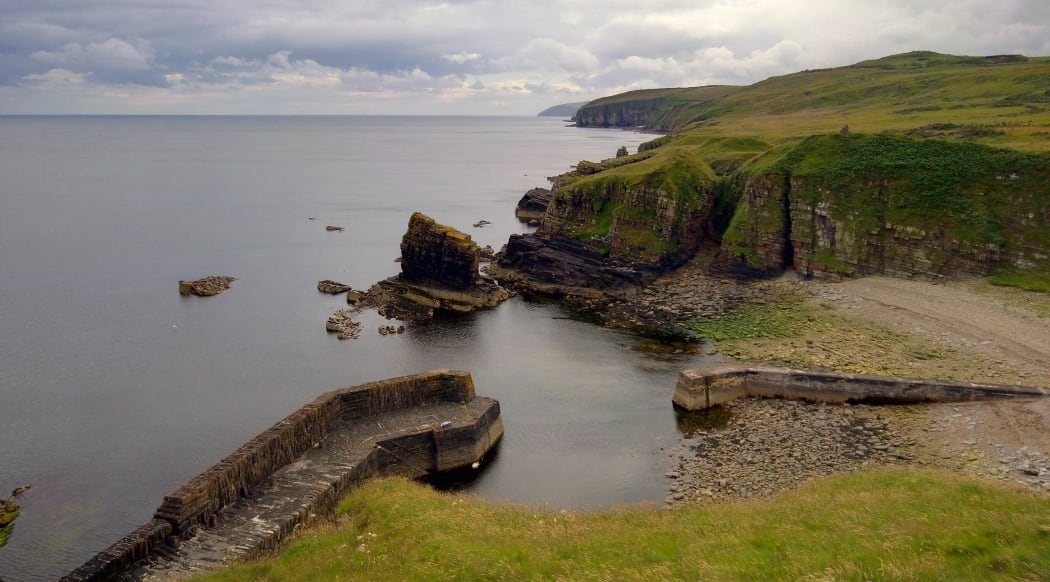 On a rocky cliff overlooking the waters of the North Sea, the dirt and grass beneath my feet only just covers layers of sedimentary rock that was formed at the bottom of a lake 370 million years ago. Caithness, the northernmost county in Scotland, as well as the barely visible Orkney Islands and the distant Shetland Islands, were once covered by a massive Devonian lake. Eons of time, geologic pressure, tectonic shifts, and rising and receding waters pushed this rugged, stony coastline above the waves.

Millions of years after its formation, this stone was quarried to create dwellings, cairns, brochs, ritual gatherings of standing stones, and fortifications; offering layers of human history told to us through stone. Around three hundred years ago, stones, unearthed from an adjacent field, were stacked into a series of joined buildings whose history is threadbare and speculative. For a time it housed animals and possibly people. Later, farming equipment. Later still, it became a garage. Its current and unlikely incarnation is that of a remote art exhibition space called The Byre.
Beginning in 2016, The Byre has opened its four distinct spaces - horse barn, cow barn, store room, and hay barn - to artists, to develop work in response to The Byre's unique surrounds. The first exhibition, Permeable Structure, featured Emily Endo (née Nachison), Silvia Levenson, Michael Rogers, and Karlyn Sutherland.

In August of this year the second exhibition, Field Notes, will open. Artists Annie Cattrell, Anne Vibeke Mou, Anne Petters, and Jeff Zimmer have performed site visits and participated in a group residency, inspiring their individual iterative and researched approaches to The Byre.
While developing work for the space, they are considering the landscape, the people, and the culture. The through line of their approaches is the poetic space between what is seen and what is felt; between the land and the sea; between our romantic projections and daily life; between the past and the present. As the opening of the exhibition nears, future posts here will look at the individual artists, their biographies, and how they are responding to The Byre.

The Byre is a mysterious place in which to exhibit artwork. Its remote location means that the viewing of the upcoming exhibition will be a exceptional experience, a testament to the magic and draw of the location. Retracing my steps from The Byre to the cliff side is like walking through time. The rock and roiling water in the harbor appears infinite and human time scale so insignificant. The rock has witnessed it all.
Artists Annie Cattrell, Anne Vibeke Mou, and Anne Petters at Latheronwheel Harbor - photo J. Zimmer
While writing about a similarly stony landscape, American curmudgeon Edward Abbey wondered if humans weren't merely a dream, and rock the only real thing. Standing here looking down on the sea from what was once the bottom of the lake, I wonder the same thing.

--

"Men come and go, cities rise and fall, whole civilizations appear and disappear–the earth remains, slightly modified. The earth remains, and the heartbreaking beauty where there are no hearts to break...I sometimes choose to think, no doubt perversely, that man is a dream, thought an illusion, and only rock is real."
― Edward Abbey, Desert Solitaire: A Season in the Wilderness
Read more
Field Notes @ The Byre part 2: The Confluence of Past, Present, and Future
Field Notes @ The Byre part 3: The Calm