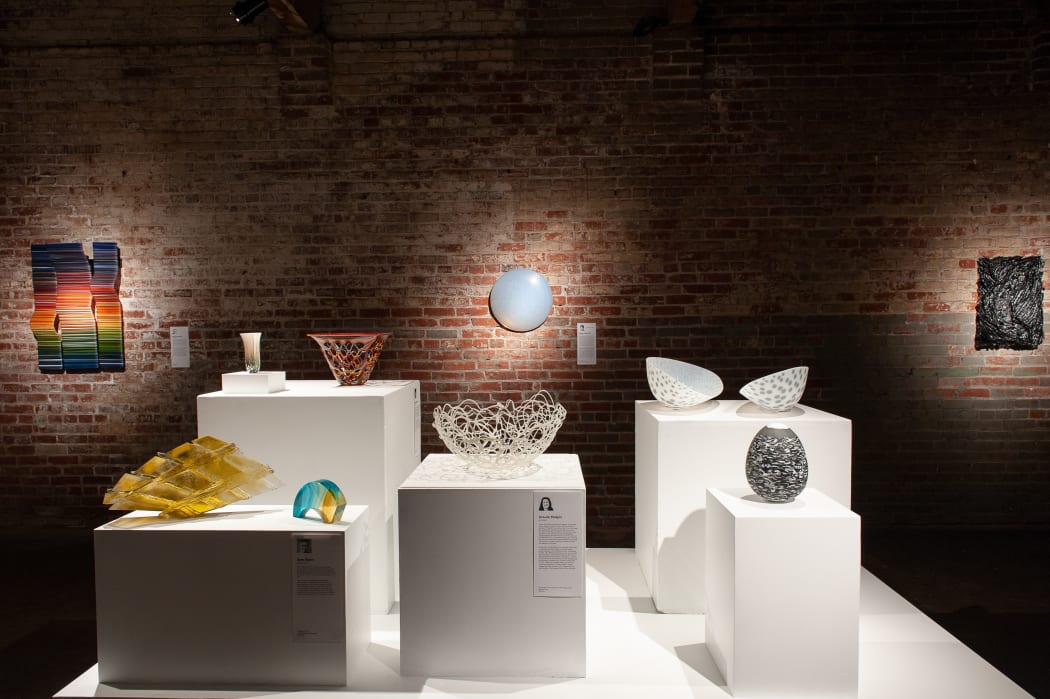 Emerge 2018 is Bullseye Glass Co.'s tenth biennial juried exhibition for rising talent in kiln-glass. Three jurors were tasked with reviewing hundreds of entries, selecting a group of finalists, and then selecting seven award winners. After the jury process ended, Bullseye Projects curator Michael Endo sat down with jurors Heidi Schwegler, Diane Wright, and Benedict Heywood to discuss the award winners, the competition, and the landscape of contemporary glass. An edited excerpt of that conversation is published in the catalog Emerge/Evolve 2018: A Showcase of Rising and Evolving Talents in Kiln-Glass.
The conversation continues in part three of four as the jurors discuss the Academic Award winners, detouring only occasionally to offer their thoughts on scale, the figure, and the importance of artist statements. In addition to Michael Endo and the jurors, Mary Kay Nitchie, Bullseye's Marketing Manager, and Lani McGregor, Director of Bullseye Projects, were present.
Michael: Let's move on to the academic category and discuss the award winners. Joshua Kerley's Making Connections won the Academic Gold Award. What about those works drew your attention?
Heidi: I loved this work.

Benedict: We liked it a lot.

Diane: This is one of my favorite works.

Heidi: We were so excited to see someone really embrace multiple materials in a very self-conscious way. The works are really wonderful to explore. All of a sudden you begin to wonder if you are looking at glass or real styrofoam. So, he really played with the materiality of each of the pieces. Materiality is the main character in his exploration.

Diane: I think it has great design elements and has great relationships between the materials. This idea of joining different materials to glass, I think, is difficult to do and I don't see very many people either taking it on or doing it well. The work is beautiful in its simplicity and its also innovative. I'm looking for what's different and whether a piece can be picked up and put into a gallery space that isn't just all glass. Does this work only fit with other glass, or will it fit in a gallery or a space in a museum with other types of artwork?

Heidi: They are smart little designs. Some are stronger than the others but it's a tight little unit.

Benedict: There's a great double take when looking at the styrofoam because one knows how skillful people can be; it's entire possible that that styrofoam could actually be made of glass. But because it isn't, it's just great.

Mary Kay: How did you perceive that it was styrofoam?

Heidi: It took me a minute.

Benedict: I think I knew it was styrofoam because I read the label during the jury process, but even so, you come in and it gives you pause because it could be glass very easily.

Heidi: The combination makes you very aware of what is glass and what isn't.

Mary Kay: Do you have any comments about the scale of Joshua Kerley's work?

Diane: I think it has a really playful, toy-like element, and that was fun.

Heidi: Exactly. I like where it places itself. It's a domestic object, it's finicky.

Diane: It is interesting because for many of the works we kept saying, "Oh, this would benefit from a larger scale," but in this case I think these are appropriately scaled.

Benedict: Beautifully scaled. Just right.

Diane: I think if they were medium-sized they would be taking themselves a little too seriously. But as really small tabletop objects they are playful and fun.

Benedict: Going back to the assessment of online photography, a comment that we made a lot is that we expected something bigger, or we thought it would be smaller. We discussed the idea that someone should put something [for scale] next to the work…like a coin.

Heidi: Scale is a huge factor.

Benedict: There is some work that would mightily benefit from being a bit bigger and there is some work that would mightily benefit from being a bit smaller, and I think that's really interesting.

Diane: I imagine some of that decision has to do with capability and the skill level of the artist.

Heidi: It's the size of your kiln. Glass can be very facility dependent.

Michael: Shouldn't they then change their idea based on what they are able to technically pull-off?

Benedict: I would hope you would.

Michael: Years ago, I had a studio visit with the artist Eric Fischl and he said the difference between an illustration and a piece of art is that with an illustration your experience of it is the same no matter what scale it is. A piece of art can only be the scale it is.

Benedict: I'll have to remember that one.

Michael: Rosemary Faulkner's Bare (6-8), received the Academic Silver Award. Tell me about this piece?
Diane: I think it's a really beautiful work. I love that she brings in the figure and the way she abstracts the body. And I like the fact that this is a series of panels, so that you see the figure abstracted in different ways. I don't think it would have been as compelling if it were just one panel.

Heidi: It's just beautiful, it just worked. And then it was a joy to read the statement. And here again, the statement extended the idea rather than defining or explaining what we were looking at. Yeah, I thought it was pretty seamless.

Michael: The only other figurative work was Suzanne Head's Knot, which the three of you were seriously considering. They are quite different, but what made Faulkner's piece stand out?
Diane: We really struggled with Head's work. I really wanted to like it more. I know in the image, online, I was really interested in the tangle of figures, but then, when I saw it in person, it had some problems in terms of the way the two figures worked together. They weren't seamlessly joined or sympathetic to each other as I wanted them to be. But I really like what she's doing.

Heidi: Yeah I think that would have been an amazing painting. I think Rose-Mary's made sense that it was in glass. But when we got to Suzanne, in person, the glass as a material with that painting, I don't think was quite working but I want to encourage her to continue. I question, why isn't it thicker? Why isn't it more dimensional? Why is it sitting in this steel frame? It's an interesting direction, but as it is now, I don't know why it is made of glass.

Benedict: I agree. If you think of artists who have innovated in terms of the human figure, you wanted those figures to be… I mean, there is an awkwardness to the composition which didn't really seem to be deliberate. If she could push that awkwardness slightly more then I think she would be approaching a Jenny Saville kind of territory, and I think it would be interesting to see that in glass.

Diane: I think you put your finger on it. It was awkward but it didn't seem intentionally so.

Heidi: It didn't feel deliberate, yes.

Michael: The three of you have already commented on the innovative quality of Jade Tapson's Scale II, but since this work won the Academic Bronze Award, let's discuss it a little further.
Heidi: We really wanted to honor Jade's dedication to what appears to be a very challenging technique, as a student. And she did it over and over again, and her constraints were very, very tight. I think that's one direction that a student should take. Really focus on mastering a certain innovative technique. I really wanted to honor her for that…and they are beautiful.

Benedict: They are.

Diane: We talked about the idea of repetition and why she was repeating something. And I can't remember if her statement goes into that…

Heidi: It does. She says that she is exploring pattern and altering it by scale. She owned it. If she had started talking about content that was way outside of the material and tried to insert meaning, I would have struggled with the work. But I really admired, as a student, that she owned this technical exercise.

Diane: They are well executed and the repetition is very visually compelling. It does draw you in, which is always one of my criteria: a strong visual component. And then, as you said, her concept was straightforward and she didn't try to vary off into some black hole of ideas. She just put it out there as straightforward and simple. The only thing that we would give as feedback is, "Work on your mounts."

In 2016, we created the Crossover Award, which is given to an artist who is established in another medium, but is new to glass. This year we only had two pieces eligible for this category. Allison Leigh Holt's Lens No. 2 ultimately won. Why?
Heidi: That was our most challenging decision. It was between Allison's piece and Mark Goudy's Relational Forms (#10 & #12). They both are spectacular pieces.

Diane: Allison was a little more articulate about her idea and how it was represented in the simple lens form with the very symmetrical pattern of dots. But I think that the award could have gone to either one.

Heidi: It really could have. So this is a good example of where an artist statement actually pushed somebody over the edge. She was very thoughtful in discussing what this exercise was and why she was doing it. Not that Mark didn't, but we just found that the deciding factor was language.